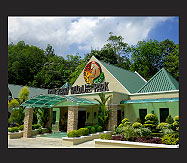 The Lok Kawi Wildlife Park is managed by the Sabah Wildlife Department. Occupying an area of 280 acres it is one of the largest wildlife parks in Malaysia.

It is home to a fascinating and varied collection of tropical animals comprising mammals, birds and reptiles. These animals live in large enclosures designed to be like their natural habitat. Water is used as barriers wherever possible, together with low fences and walls camouflaged with vegetation. This open environment concept provides for easy viewing and unique opportunities for wildlife photography.

The park encourages the public and particularly schools to use its educational facilities to provide an authentic learning experience through observation and also by listening to tour guides and park staff during the visit.

A botanical garden has been developed to highlight common plant species of the rainforest as well as some of the more unusual species such as pitcher plants.

Objective
To raise awareness of the value and importance of conserving the natural heritage.

To provide educational facilities and resources to conduct environmental education programmes for visitors.

To conduct research on captive management and reproduction of endangered species.

To breed rare and endangered species of indigenous wildlife.

To provide a facility where rescued native animals can be treated and rehabilitated.

To provide captive-bred and rescued/rehabilitated Bornean animals to the world's major non-profit zoos for additional captive breeding.


The Lok Kawi Wildlife Park offers a unique opportunity for close-up views of some of the most elusive and endangered wildlife species in the world and to appreciate the conservation efforts being carried out to preserve and continue their survival. We hope you will enjoy the experience.
The wildlife park is located about 25km from Kota Kinabalu on 280 acres of forested land. It is easily accessible by using either the Old Penampang-Papar Road via Dongonggon or the Putatan-Papar Road and is only a 15-25 minute journey from the city. You can drive there on your own or take a tour and be guided to view the exhibits in the park.